Of Words and Storytelling – Rediscovering the Art of Connection through Story Time
The enchantment of stories and storytelling has endured across generations, captivating the hearts and minds of children worldwide – with bedtime stories being the most cherished of all. Rooted in humanity's early history, oral literature is one of the earliest forms of storytelling, passed down through ages, leaving an indelible mark on cultures and memories throughout centuries.
Africa, with its unexplored literary treasure trove, has seen glimpses of this legacy in celebrated authors of both past and present. However, the landscape of storytelling is evolving, transforming the way tales are presented and preserved. Despite this evolution, the essence and purpose of storytelling remain steadfast.
Once told under the village's ancient baobab tree, beneath the glow of the full moon in the village square, or around communal fires, storytelling now finds its place on tablets, computers, and as animated audio-visual books. Despite the mediums shifting, storytelling's essence remains a realm of creativity, wonder, and imagination, brimming with adventure, knowledge, and cherished memories.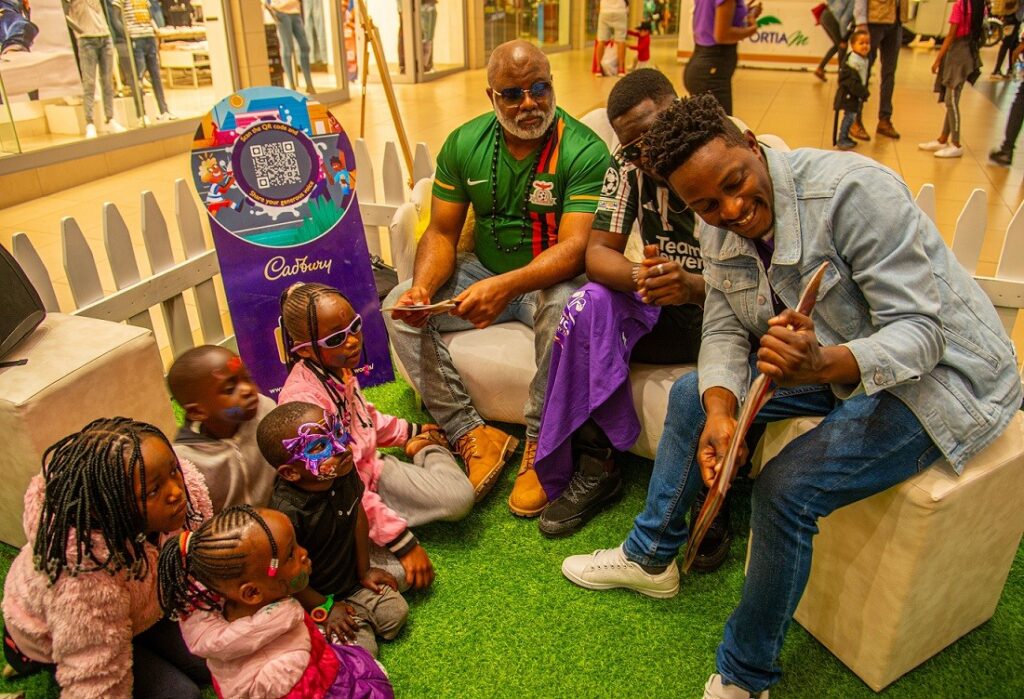 From left to right: Kapembwa Wanjelani, Christian Njobvu and K-Star of Mkushi Accents read to their audience for the day at the Cadbury Give a Generous Voice to Story Time activation at Manda Hill Mall.
Reading and listening to stories offer children numerous benefits. Bedtime stories, in particular, contribute to improved sleep quality, as per statistics from sleep therapists. Amid the sensory overdrive of daytime activities, establishing a bedtime routine like storytelling can foster a serene and restful environment for young ones.
Furthermore, storytelling enhances memory, refines reading skills, bolsters academic performance, and nurtures social and emotional capabilities, notes Lunar Odawa, a child psychologist based in Kenya.
Amid the proliferation of social media and digital content, oral bedtime stories hold the potential to grant Africa's next generation a reprieve from screens, offering them an opportunity to embrace their culture and explore the world beyond the confines of screens. Traditionally, parents and grandparents were at the core of this cherished practice, making bedtime storytelling a highlight of the day.
However, a disheartening statistic reveals that one in three parents across Africa feels they don't allocate enough time to bedtime stories. The "Give a Generous Voice to Story" campaign by Mondelez, the company behind Cadbury drinking chocolate, endeavors to bridge this gap, providing a platform for parents and guardians to connect with their children despite time constraints and geographical distances.
The campaign urges individuals to contribute to recording a collection of 85 African-themed children's books steeped in folklore, history, and vibrant characters. This initiative aims to cultivate the joy and heritage of bedtime storytelling. These audio books allow children to relish the oral traditions of their ancestors while alleviating the pressures on busy parents.
Notable Zambian personalities and influencers, including Lulu Haangala Wood, Mkushi Accents' Daniel Lyapa (K-Star) and Kapembwa Wanjelani, and Kamiza Chikula, have lent their voices to the campaign. The initiative, which also spans Kenya and Mauritius, invites participation through the Cadbury Library at https://www.cadbury.africa/ourownwords/. Participants can choose a book, record their narration using their device, and become a part of the storytelling movement.
As the world changes, the power of storytelling remains undiminished, continuing to bridge generations, cultures, and hearts, one narrative at a time.